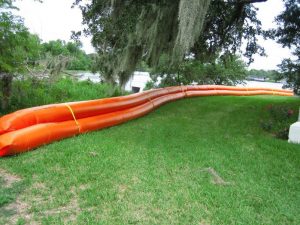 Golf courses, beautiful, green and usually built in close proximity to a water source.
Golf courses are built quite often along rivers and water sources. It's mostly for the ascetics. Where the problem lies is these courses are typical placed along the flood plain of these water sources.
It doesn't take a lot of water to make a river overflow. Low laying golf greens and fairways are quickly flooded and flooding water brings silt, rocks and debris that can take months to clean up.
Tiger Dams™ are the perfect solution. The fact that they can be set up in 1/5th of the time it takes to manage any other flood control devise, like sandbags, should be a great incentive to find out how Tiger Dams™ can save your golf course.