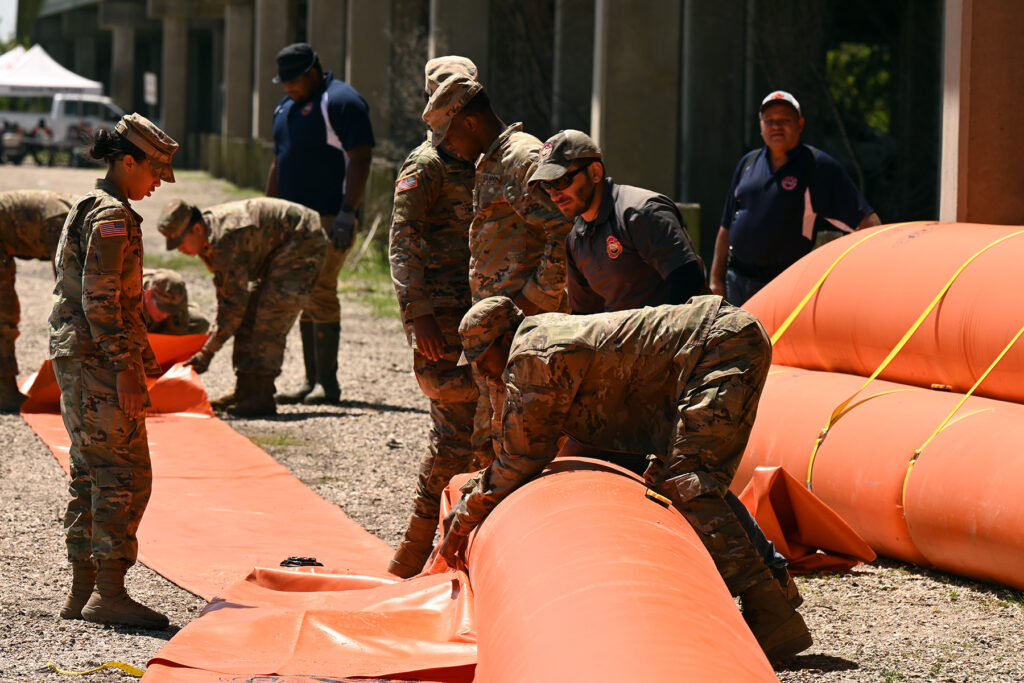 Soldiers with the 1021st Engineer Company, 205th Engineer Battalion, 225th Engineer Brigade, deploy Tiger Dams during the annual Disaster Response Exercise in Manchac, Louisiana, April 8, 2022. Tiger Dams are used for temporary flood mitigation during any disaster response to assist in the protection of our citizens in times of need. (U.S. Air National Guard photo by Master Sgt. Toby M. Valadie)
By Staff Sgt. Josiah Pugh, Louisiana National Guard Public Affairs Office
NEW ORLEANS – The Louisiana National Guard held their annual statewide Disaster Response Exercise (DRX) April 6-9. The LANG partnered with state and local agencies to test and strengthen a combined response between the groups in preparation for the upcoming hurricane season.
The commander of the 225th Engineer Brigade, Col. Greg St. Romain, said exercises like this one are an important way for the heads of different agencies to prepare for disasters.
"We must continue to have key leader engagements. These types of exercises reinforce that need. When a disaster does arise, it's not a stranger walking into their building to talk about what the Guard is capable of doing for them."
The exercise, organized by the Governor's Office of Homeland Security and Emergency Preparedness, involved training missions that took place at Fort Polk, Delcambre, Manchac, Plaquemines Parish and a staging area in Roseland.
Vicki Travis, deputy director of Tangipahoa Emergency Preparedness, said it's critical to work out all the details before a storm hits.
"It's so valuable, because they say you train as you fight, and I truly believe when you meet and network ahead of a disaster it makes it easier to execute safely and efficiently."
LANG Soldiers, along with active-duty Soldiers with the 46th Engineer Battalion out of Fort Polk in Leesville, conducted ground search and rescue operations using high-water vehicles. Rescued role players were taken to a lily pad, which is a consolidation point for rescued personnel.
"The joint training provides our Soldiers a chance to see the part they play in a full-scale operation," said Staff Sgt. Victor Turner, the readiness noncommissioned officer with 3rd Battalion, 156th Infantry Regiment, 256th Infantry Brigade Combat Team.
LANG Airmen with the 159th Fighter Wing conducted simulated boat rescues with the Cajun Navy in Belle Chasse, Louisiana.
"We've been tasked by the state to provide high water search and rescue," said Air Force Master Sgt. Brian Krail, an incident search and rescue boat team leader. "The Guard has provided us with these assets. Tthese boats are very good at that job."
LANG Soldiers with the 1021st Engineer Company, 205th Engineer Battalion, 225th Engineer Brigade, deployed Tiger Dams in Manchac, Louisiana. Tiger Dams are used for temporary flood mitigation during any disaster response to assist in the protection of citizens in times of need.
Spc. Courtney Braswell from Albany, Louisiana with the 843rd Engineer Company, 205th Engineer Battalion, said this was her first time training on the Tiger Dam system.
"It's been great. Yesterday we came out, we watched them do it and got a feel for it. Today, it was more hands on. We were taught what to do and everyone took turns getting to do it themselves."
In Roseland, the exercise focused on the logistics of distributing commodities, such as water and packaged meals, to points of distribution throughout the state.