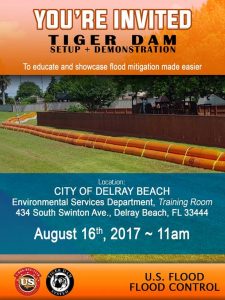 The City of Delray Beach has requested a demonstration of the Tiger Dams™ Flood Control system, and they have agreed to host any other municipal agencies who would like to take a look as well.
I would like to extend this demonstration to you and your team.
Tiger Dams™ are FM Approved with a Platinum Certification, tested through by the USACE Vicksburg MS district. We manufacture various sizes of dams, and we work to stock throughout the year. Tiger Dams™ is a buildable barrier system, it connects end to end to make seamless joins, and it is stackable to mitigate varying depths of flood waters.
Please join us next week, August 16th, 2017 ~11am, Evnvironmental Services Department, Training Room 434 South Swinton Av. Delray Beach, FL 33444
we are excited to answer all your questions and discuss your local flood issues.
For more information and contact with out team please Contact Us »